HOW TO MEASURE FOR CUSTOM SHUTTERS
Recommendation
Use a metal tape measure (makes measurements precise)
Measure to the nearest 1/8"
MOUNTING



Plantation shutters have 2 different types of mounting. They can be installed either inside the window frame or outside the window opening. The EASIEST to measure and install is outside mounted shutters. There are two factors that determine whether an inside mount is possible. See pictures for instructions.
Depth of Window Opening
Squareness of Window Frame
Depth of Window Opening
To be able to mount inside the window frame you need a minimum depth of 2 ½ ". Measure from the front edge of the window frame to the window of the first obstruction, such as a window crank or opening lever.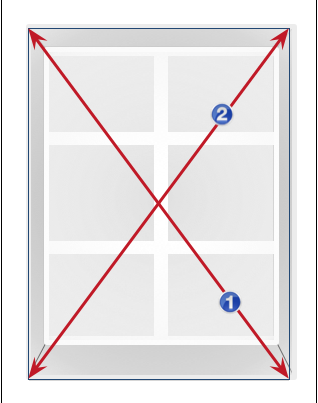 Window Frame Squareness
To be able to determine if your window is square, measure the window diagonally. If the measurements differ by more than ½", is is BEST to use an outside mount shutter. Outside mount shutters are installed to the wall outside the window frame, or directly on window casing.
MEASURE WINDOW INSIDE MOUNT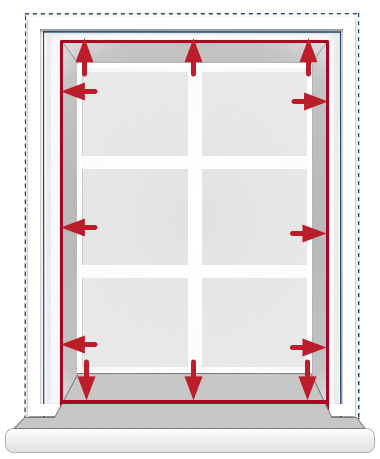 Measure the length and width as shown in the picture.
(drywall to drywall or frame to frame)
CRUCIAL: it is necessary to give the closest length and width to 1/8"
Enter EXACTLY what your window frame measures. DO NOT take deductions from measurements.
Ensure you have enough window depth. See individual products for details:
2″ for 2½" Louver
2 ½" for 3 ½" Louver
3" for 4 ½" Louver
MEASURE WINDOW OUTSIDE MOUNT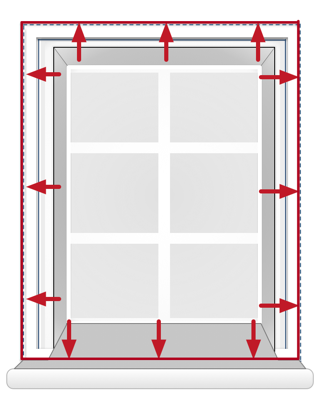 Measure the length and width of your window. Make sure you measure in 3 places. See picture.
Use measurements to 1/8"
Add the size of the frame you are using.
WIDTH
Add the frame width to the overall width (hint: standard is to add 3 ¼")
HEIGHT
Three Sided Frame: Add 1 5/8 " to height.
Four Sided Frame: Add 3 ¼" to height.
PANELS
Number of Panels
The number of panels in each plantation shutter will vary based upon your shutter size. Shutters with multiple panels will be divided equally and will be the same size.
Panel Configuration
Panel configuration determines how each panel will open and close on its hinges.  See pictures below:
(PICTURES)
Divider Rails (Optional)
Divider rails help to provide strength and stability (especially to larger shutter panels- generally over 60" high). Divider rails also separate the top and bottom louvers so they can be operated separately.
IMPORTANT NOTE
Divider rail height may vary based on the height of your window, due to louver spacing. (Generally the divider rail is placed in the center of the panel).